Didgeridoo can also be learned very well online! I have also been teaching online on and off for many years, and now increasingly. All my offers, one-on-one lessons, courses and workshops can also be done comfortably from home. Totally safe, no travel required, and no overnight stays.
I currently prefer to use the provider Zoom, for which you do not even need to download an app or program. To participate, you just need to allow your internet browser to access the microphone and camera.
It is also possible to virtually participate in my real workshops (as a so-called "hybrid workshop"), where you will then be connected online via Zoom to the participants on-site on a large monitor. The room is big enough for four people and me, with enough distance and good ventilation. Didgeridoos also do not blow droplets or aerosols into the air, there flows at most a small stream 😉
If you are used to other ways, we can also meet virtually via Jitsi, Google Meet videoconference, or Skype (etc. …). These programs specialize in transmitting speech, so we will need to change a few settings (example: zoom) for didgeridoo lessons. However, for the hybrid workshops, I only provide access through Jitsi.
What you need to learn didgeridoo online
A PC / Mac/laptop/smartphone
Webcam (mostly already integrated)
Microphone (mostly already integrated)
Internet browser (Firefox, Safari, Chrome, Opera, Explorer, Edge, …)
A stable internet connection with good bandwidth (best via LAN cable)
A CODE from me to access our virtual meeting
A reasonably well-lit and undisturbed room (best not too reverberant)
Prices are the same as for face-to-face classes.
Payment options: PayPal, advance bank transfer
ZOOM audio settings (gear icon or in the meeting the small arrow next to the microphone icon)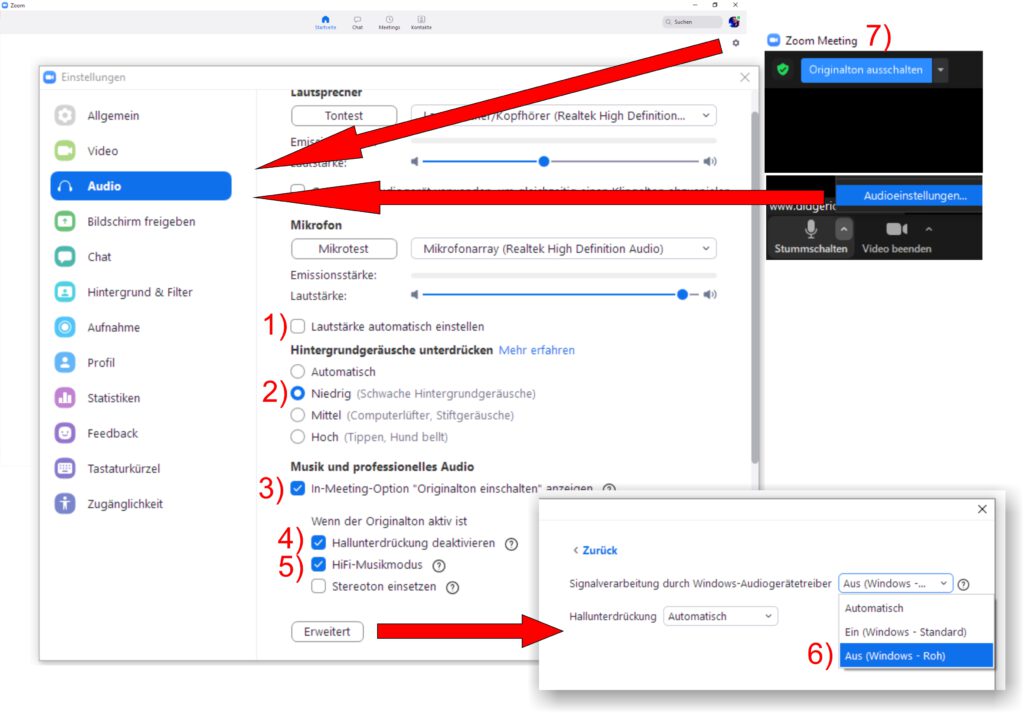 first … "audio"
Speakers & Microphone:
Select the audio interface (if you use one) or select the speakers/microphone of your choice
1) TICK AWAY at "Automatically set volume"
then … (on the older zoom, under "Advanced")
2) Suppress background noise to "low" (old zoom: disable "Suppress sporadic background noise").
3) CHECK SET at "In-Meeting Option "Enable / activate original sound".
4) CHECK SET at "Disable reverb suppression" (old zoom: "Disable continuous background noise")
5) CHECK SET at "HiFi music mode" if you have a good connection.
We don't need stereo sound.
… "Advanced"
6) Signal processing by Windows audio device driver: "Off (Windows – Raw)".
IN THE MEETING itself …
7) SELECT "Turn on original sound" (the button will be blue).
Settings on Ipad, iPhone, Tablet, or Android Smartphone
Before the meeting
1) Settings (gear icon) > Meetings: "Use original sound" ON
In meeting
2) three dots ("More") > ENABLE "Turn on original sound" (To check: if it's on, it says "Turn off original sound")